Linking to the CCFFC Website
Adding a link to the CCFFC website is very straightforward. If you have a webmaster, just ask him or her to add a link to the website https://www.ccffc.org/.
If you maintain your own site, you may utilize a site builder application that makes it easy to create links.
If you have the ability to edit your site's HTML directly, you can add a link by inserting an anchor tag such as the following:
We are proud to support the <a href="https://www.ccffc.org/">Chiropractic Cancer Foundation for Children</a> by offering free chiropractic care for children with cancer.
Members are encouraged to change the paragraph and link text as they see fit. The important thing is that the href tag points to http://www.ccffc.org. After you have added a link, please use our Link Confirmation page to notify us that the link has been added.
If you want to have an image link on your site, you may choose any of the images below
CCFFC Link 180x150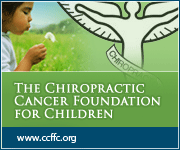 Copy the code below:
<a href="https://www.ccffc.org/" target="_blank"><img src="https://www.ccffc.org/images/ccffc-link-180x150-sm.gif" alt="The Chiropractic Cancer Foundation for Children" border="0" width="180" height="150"></a>
CCFFC Link 125x125

Copy the code below:
<a href="https://www.ccffc.org/" target="_blank"><img src="https://www.ccffc.org/images/ccffc-link-125x125-sm.gif" alt="The Chiropractic Cancer Foundation for Children" border="0" width="125" height="125" ></a>
CCFFC Link 120x90

Copy the code below:
<a href="https://www.ccffc.org/" target="_blank"><img src="https://www.ccffc.org/images/ccffc-link-120x90-sm.gif" alt="The Chiropractic Cancer Foundation for Children" border="0" width="120" height="90" ></a>
CCFFC Link 88x31

Copy the code below:
<a href="https://www.ccffc.org/" target="_blank"><img src="https://www.ccffc.org/images/ccffc-link-88x31-sm.gif" alt="The Chiropractic Cancer Foundation for Children" border="0" width="88" height="31" ></a>
CCFFC Link 468x60

Copy the code below:
<a href="https://www.ccffc.org/" target="_blank"><img src="https://www.ccffc.org/images/ccffc-link-468x60-md.gif" alt="The Chiropractic Cancer Foundation for Children" border="0" width="468" height="60" ></a>